Redbird TD
Cost Effective, FAA Approved Training
TD
$7,9991
FAA Approved BATD2
One Aircraft Configuration
Alloy RD1 Rudder Pedals
Keyboard with Shortcut Commands
1 Year Warranty3
Pricing Notes:
All prices exclude shipping, installation, and training. To keep your navigation data up to date, we recommend that you purchase a RealNav subscription (starting at $495 annually). Contact us for more information about RealNav.
Read more about FAA approval.
Service and support after the initial warranty expires is available for an additional charge.
Warranty Information
For the legally minded, you can download the full warranty document. For the rest of us, we summarized the high points:
This simulator includes a warranty against defects in material and workmanship that starts on the day you take delivery of your new simulator and ends one year later. Basically, if something broke because we didn't built it correctly, we'll fix it or send you a replacement. This doesn't cover normal wear and tear, modification, acts of nature, or other stuff that's out of our control.
Additionally, we also provide one year of free product support that includes:
Software and database updates
Part repair or replacement
On-site support for US customers
Phone and email support for all customers
Remote diagnosis for all customers
Access to our online knowledge database
×
Horizon - $1,695
Take your flight training to a new level of realism with 60 inches of additional visuals to expand your field of view for a more effective and engaged training experience. This expansive display allows you to fly a wide range of visual maneuvers not possible on other desktop simulators. Horizon is available for the Redbird TD or TD2.
×
Redbird Cygnus - $599
Cygnus allows you to use any aviation or navigation apps running on your Apple iOS device while connected to any one of a wide range of flight simulation software products. When using Cygnus during a simulation session your iOS device and the aviation app it is running will believe that it is located wherever the aircraft in the active simulation is located. Cygnus is the perfect tool for training pilots in the use of iPad© aviation apps in a safe and controlled environment.
Cygnus Pro Wireless comes with a fully-functioning Bad Elf GPS Pro external Bluetooth wireless GPS receiver, and can be used to feed simulation data to up to 6 Apple iOS devices.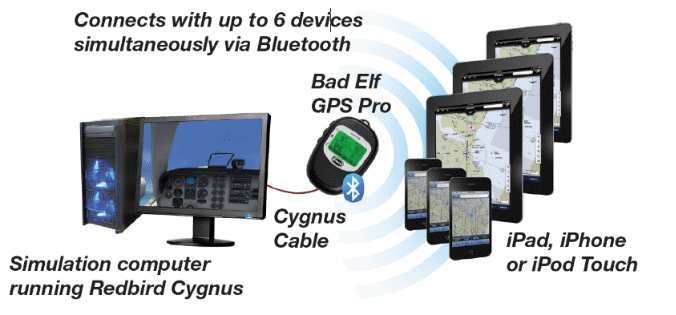 Cygnus Compatibility
Cygnus talks directly to the location services on your iPad, iPad Mini, iPhone, or iPod touch allowing you to display your simulated location on any location based App, including:
ForeFlight Mobile
Garmin Pilot
WingX Pro7
Jeppesen Mobile FliteDeck
Reader Plates
CloudAhoy
Cygnus will work with most Windows based flight simulation software, including:
All Redbird Simulators
Lockheed Martin Prepar3D
Microsoft ESP
Microsoft Flight Simulator X
Microsoft Flight Simulator 2000-2004
X-Plane 9 and 10
×
Redbird Corvus - $599
Corvus connects your Redbird simulator to ForeFlight (more EFB connections are in the works) by providing data akin to an ADS-B receiver. In addition to representing own-ship position of simulated aircraft, Corvus also broadcasts attitude and heading reference systems (AHRS) information as well as Traffic Information Services-Broadcast (TIS-B) data. Select Flight Information Services-Broadcast (FIS-B) functionality, such as weather and airspace information, are currently in development and will be available in future updates.
×
Aviation Headset Connect - $99
The Redbird Aviation Headset Connect box converts the aircraft-style headset plugs into standard computer audio jacks, allowing you to use your aviation headset with your simulation device. Both audio and microphone are converted connect to allow for two-way communication. Aviation Headset Connect supports both mono and stereo headsets.
×