Your Partner in Proficiency
Redbird Pro
Redbird Pro puts personalized proficiency planning, training, and tracking right in your pocket to make becoming a better pilot an achievable and enjoyable part of your daily routine.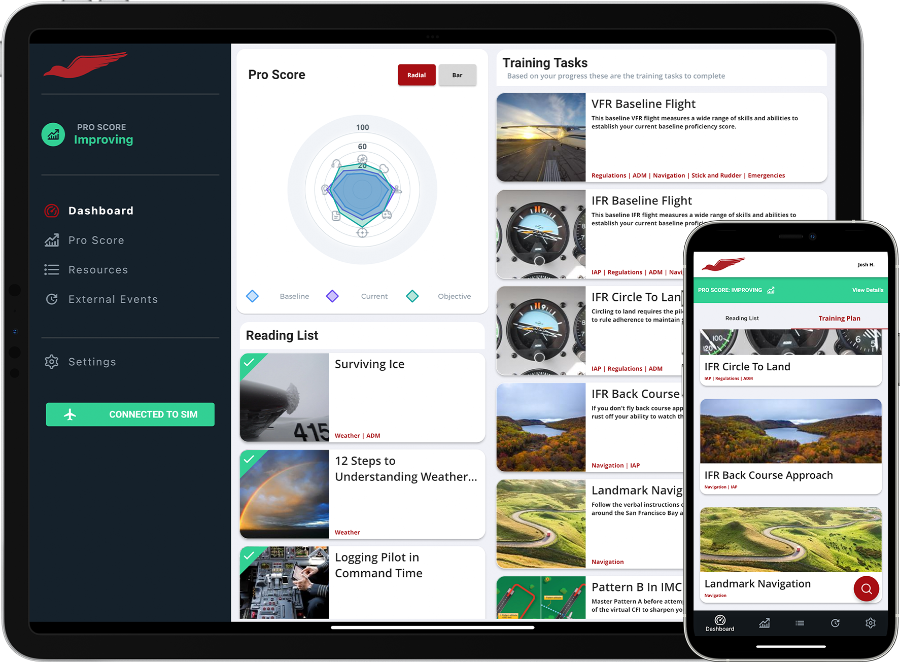 Meet Redbird Pro
Redbird Pro is a first-of-its-kind pilot proficiency app that tailors training to your individual needs and goals as a general aviation pilot. With your smartphone or tablet, the app helps you improve your flying from anywhere, anytime.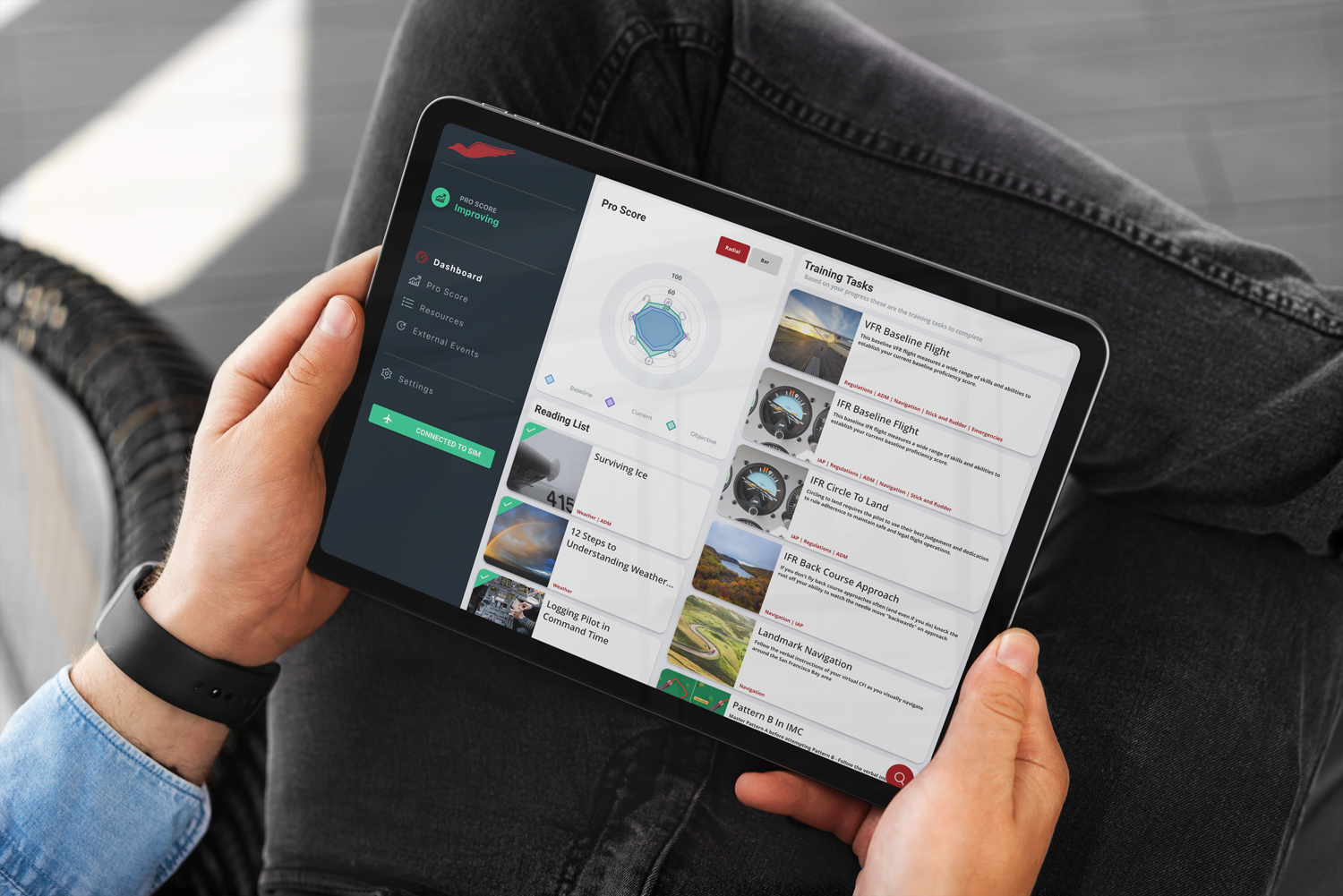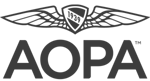 Redbird Pro
Personalized Proficiency Training
Training for Your Weakest Areas
Redbird Pro delivers the right training at the right time, any time you have the time to train.
Training for Your Weakest Areas
Objective Performance Measurement
Your Pro Score is at the core of Redbird Pro providing you with an objective measurement of your progress.
Objective Performance Measurement
---
And More to Help You Improve
---
Skill Training Flights
Work on specific piloting skills, like slow flight or ILS approaches
Skill Training Flights
Reading List
Personalized reading recommendations to help you grow your knowledge
Reading List
Test Your Knowledge
Quizzes on a range of aviation topics to test your understanding
Test Your Knowledge
Stay in the Cockpit
Chair flight videos to help you visualize the scenario and challenge your decision making
Stay in the Cockpit
Flight Training Library
In the Resources section, you'll find every article, quiz, scenario, and skill flight available in the app
Flight Training Library
Everything Aviation
Log, track, and get Pro Score points for everything you do that helps your proficiency
Everything Aviation
One Size Fits None
One-size-fits-all approaches to proficiency training can help you stay sharp, but how do you know which specific skills and tasks you need to improve before they become an issue in the airplane? Redbird Pro delivers the right training at the right time, any time you have the time to train. Whether you're reading an article at breakfast, taking a knowledge assessment at lunch, or flying a simulator scenario in the evening, Redbird Pro tracks every training event you do to adjust your personal proficiency model and suggest what you should work on next.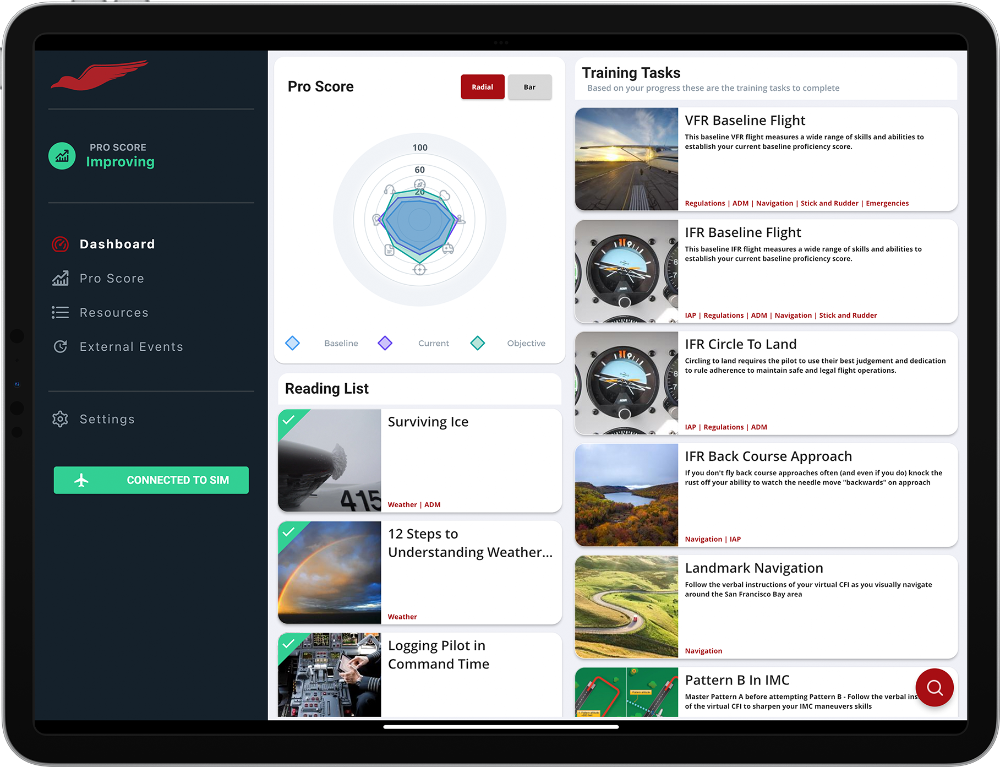 Track and Analyze Every Aspect of Your Training
Informed by your training data and designed to help you hit your personal proficiency goals, your Pro Score both provides a broad overview of your training activity and allows you to drill into specific skills and tasks, how much time you should allot to them, and how you score for them relative to your baseline and objective. It takes into account the frequency and effectiveness of your training to give you a realistic and evolving view of your proficiency level.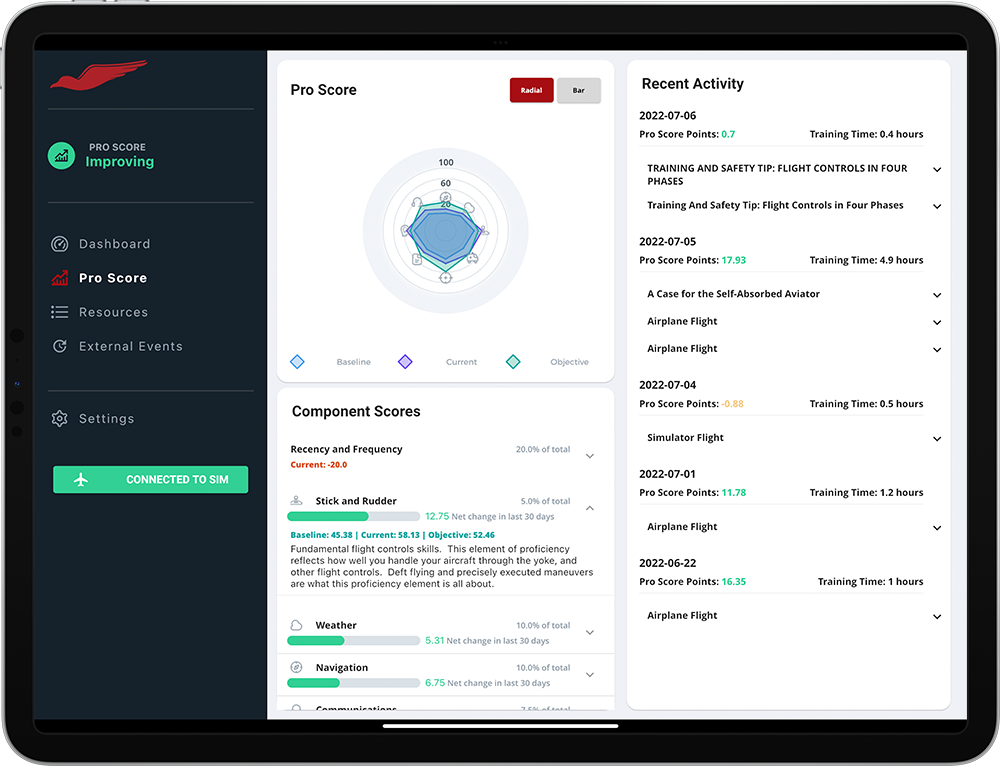 Challenging Sim Scenarios Every Month
At the beginning of every month, we add new VFR and IFR scenarios to the training library in Redbird Pro. Each scenario includes an overview, pre-flight and post-flight briefing, and a score. You can complete scenarios in a Redbird flight simulator or as a chair flight guided by an in-app instructor.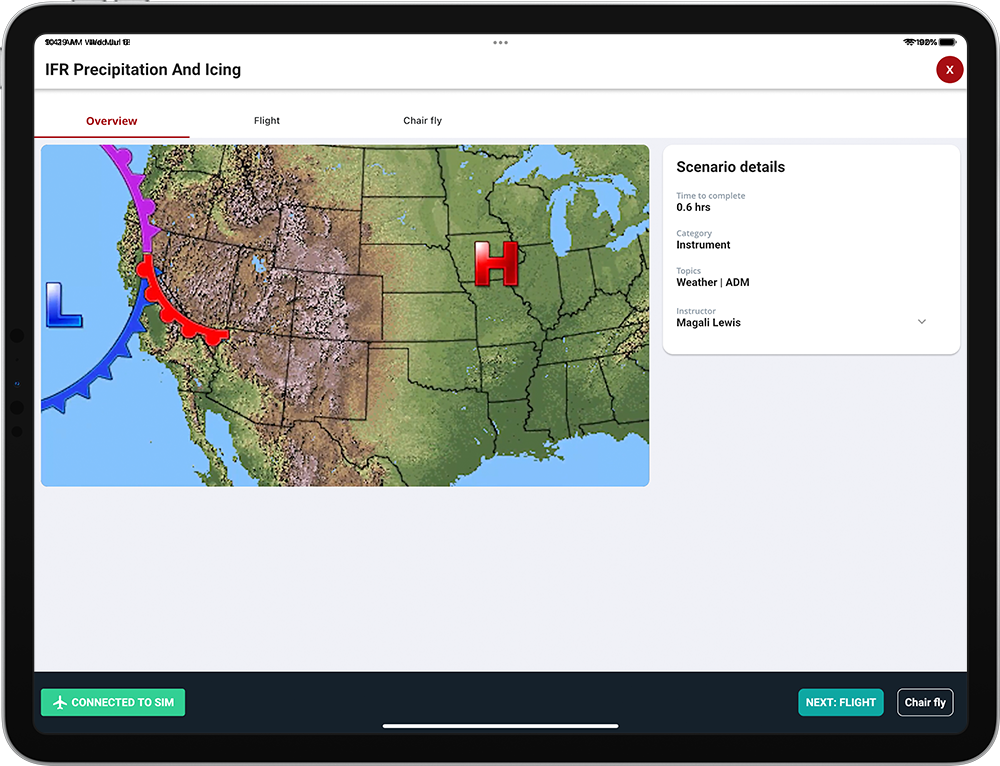 A Library of Flight Training Content in the Palm of Your Hand
Scenario recommendations only scratch the surface of the training content available in the Redbird Pro library. Whether you're at home, on the go, or at your flight school, Redbird Pro is designed to deliver relevant and realistic training content that helps you become a better pilot.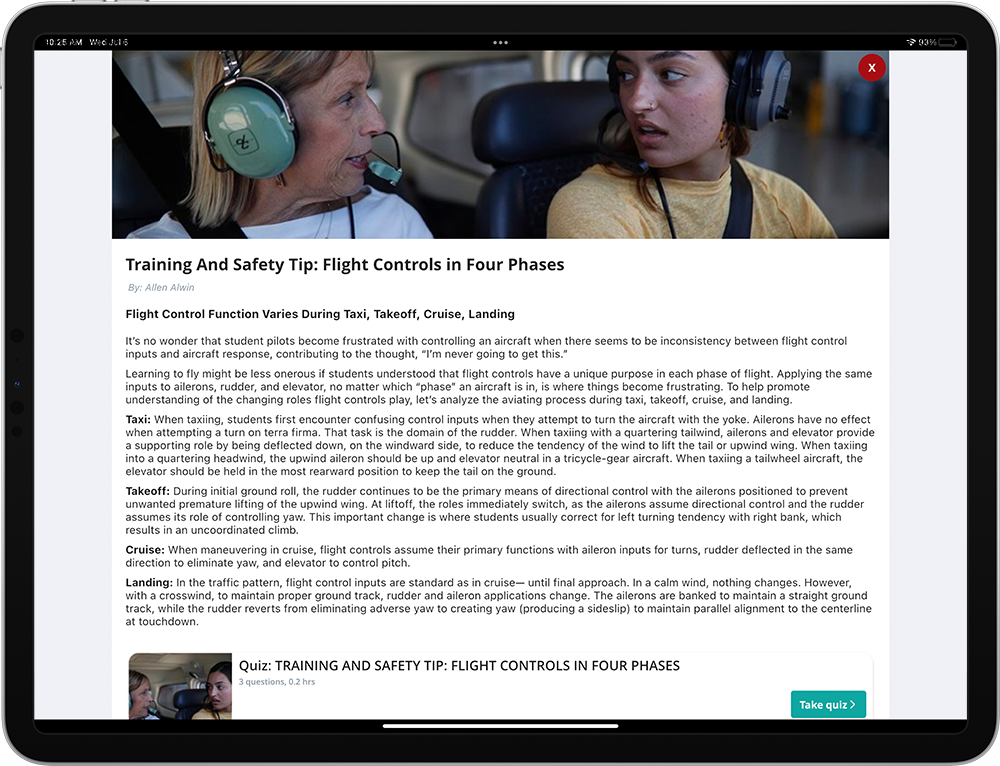 Log Outside Flights and Training Events
Redbird Pro allows you to log all your flights and training events and incorporates them into your Pro Score. Whether you're flying a scenario in the app, doing ground training at your flight school, attending an online seminar, receiving flight instruction from your CFI, or all of the above, Redbird Pro is the single source of truth for your pilot proficiency.