The JAY
Bring the Power of Redbird Home
Practicing at home is a great idea for every pilot. You can keep your skills sharp and your mind in the cockpit even when you can't make it to the airport. The clean-sheet design of the JAY by Redbird prioritized one thing: Get the pilot flying with a minimum of fuss. There are no peripherals to configure, no systems to install. Take it out of the box, plug it in and turn it on. Now say, "preflight complete."
Going from shipping box to flying in five minutes isn't much fun if it breaks five minutes later. That's why the JAY shares design components with full motion simulators built by Redbird Flight Simulations, which withstand thousands of hours of abuse in flight schools around the world. The software on the JAY is the same code powering those FAA-certified machines. It's one tough bird.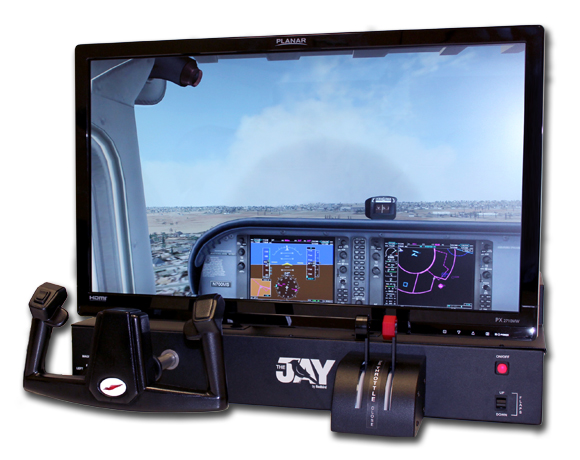 The JAY

Starting at:

$2,995
Aircraft Configurations
The Jay comes preloaded with a diverse selection of aircraft for training and for fun. Plus, just about any FSX aircraft or add-on from these developers will work!
Preloaded Aircraft Include:
Cessna 172SP with Analog Gauges
Cessna 172SP with G1000
Mooney Bravo with Analog Gauges
Mooney Bravo with G1000
Beech Baron 58 with Analog Gauges
Beech Baron 58 with G1000
Maule M7
Maule M7 on Skis
Cessna Grand Caravan
Beech King Air 350
Lockheed Constellation
Piper Cub
Extra 300S
Yak-52
JAY1
$2,9952
Monitor
Speakers
Computer
Keyboard with Shortcut Commands3
Flight Controls
1 Year Warranty / 30 Day Money-Back Guarantee
JAY Velocity1
$4,5952
Designed for Demanding Environments like Middle and High Schools, Museums, and Public Access Kiosks
Includes All Standard JAY Features
Highly Robust Internal Components
Heavy Duty Flight Controls
Upgraded Computing Power for High Reliability
Pricing Notes:
The JAY is not approved or certified by the FAA or any other foreign government or entity for use in flight training to satisfy required proficiency time, instrument experience, training for certificates or ratings.
All prices exclude shipping, taxes, and tariffs.
Download the JAY Keyboard Commands Cheat Sheet.
Specifications
| Component | Description |
| --- | --- |
| Visuals | 27-inch LCD monitor (1920 x 1080 pixels) with Nvidia GeForce GTX 1630 Video Card |
| CPU | Intel 12th Generation i5 |
| Memory | 8GB DDR4 |
| Storage | 500GB M.2 NVMe SSD |
| Operating System | Windows 11 Professional (64-bit) |
| Flight Simulation Software | Lockheed Martin Prepar3D v5 |
| Primary Flight Control | Redbird professional-grade yoke system |
| Throttle Quadrant | "Boat style" controls for throttle and mixture |
| Dimensions | |
Requirements
| Item | Description |
| --- | --- |
| Desk or Table Size | At least 30" wide and 27" deep. |
| Electrical | US standard 110 volt, 15 amp wall outlet. |
| Internet | A high-speed connection is highly recommended to allow updates and added functionality. |
Sign up for Redbird news and updates.
You can unsubscribe at any time. (Privacy Policy)
Products
Product Support
Connect with Us
Redbird Flight Simulations
301 Vista Ridge Drive
Suite 300

Kyle

,

TX

78640

f: (512) 301-0770